GroundJewels is located within GroundWork Gallery. Which hosts a modern designer Gallery Penthouse. Read on for more information and to book your stay.
Stay with us in the Gallery Penthouse
You can rent the gallery penthouse, this stylish and well equipped apartment, explore the town, tour the region, enjoy great views, and have the freedom to self-cater. You can use the free parking space close by, or come by bike or public transport. King's Lynn has the great advantage of being easily accessible by bus and train.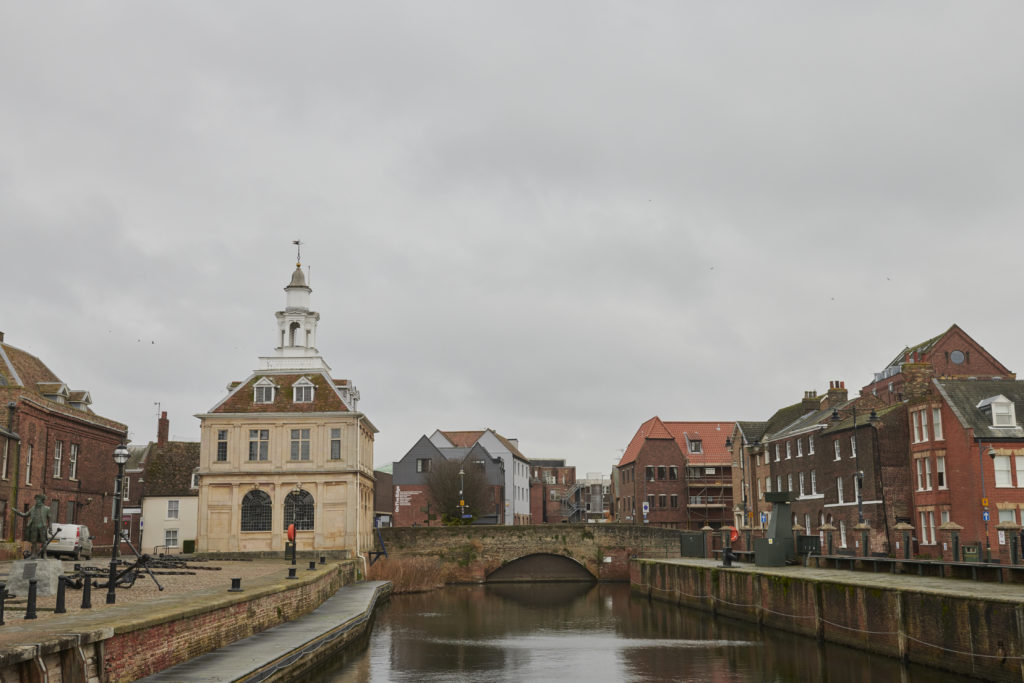 Enjoy a closer relationship with art + environment in this comfortable designer apartment for one, two or more people at the top of the gallery. You will be only steps away from the high street, and near to shops, bars and restaurants, and yet inside, you can be quite relaxed and private.
Breath-taking views over the quay-side and Custom House
The views are breathtaking but if you can tear yourself away, you will find yourself close enough for a hop to the coast by bus (or some 15 miles by car). You can get the best of both worlds too, being within easy reach of buses for local tourism, trains to Cambridge and London and buses to Norwich and Peterborough.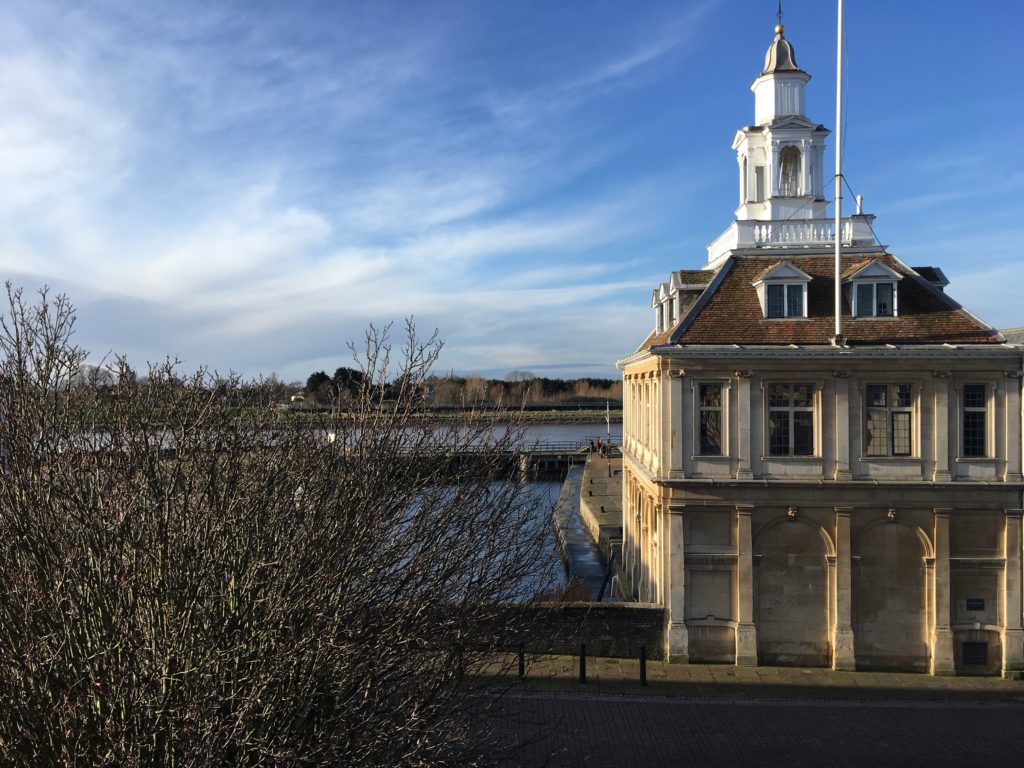 Enjoy the Penthouse quiet space close to the centre of town
You will access the Gallery Penthouse (sleeps two +) through its own entrance and 3 flights of industrial style staircase shared with the gallery. However, once you are inside it is completely private. It is spacious self-contained, and largely open plan, with inter-connecting living-bedroom and kitchen-dining room and a bath-shower room. Although the rooms flow through to one another, they are quite distinct spaces and feel self-contained. Thanks to its insulation and double-glazed windows, it is peaceful and quiet. Above all, it has some of the best views in King's Lynn, over to the Custom House, South Quay and the Great Ouse River and Queen Street.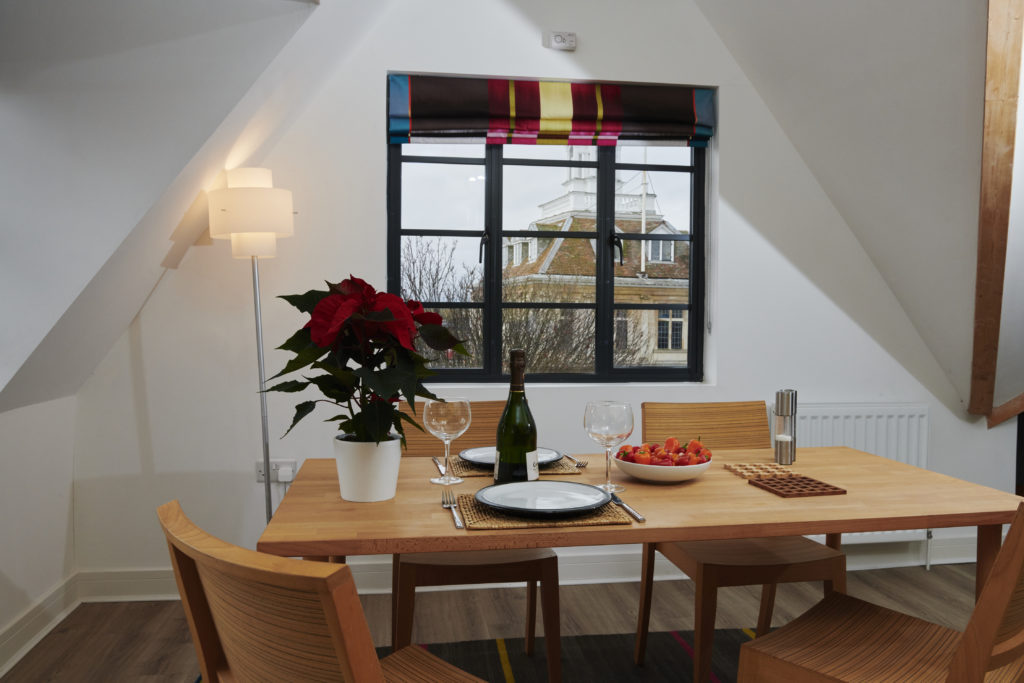 Stylish designer furnishings
The Gallery Penthouse is stylishly furnished in keeping with the gallery's art and environment theme. You will sleep in a 6ft hand-made Harrison Bed with white cotton sheets. sink into the English wool carpet on the living room floor. At night you can draw artist Ptolemy Mann's multi-coloured ikat curtains which frame the windows. Local master furniture maker and designer Toby Winteringham designed our lovely coat stand and occasional tables. Put up children or extra guests on the double sofa-bed (or downstairs – see below). We can provide you with a cot as well if you need to convert to a family room.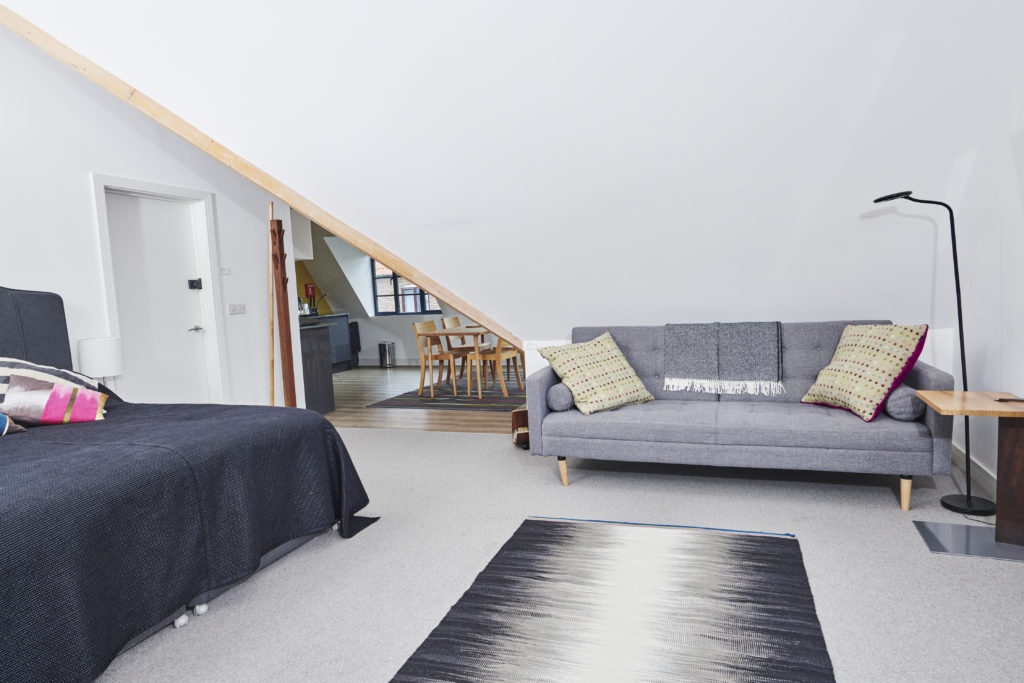 "We have have just had an amazing weekend at Groundwork's excellent penthouse in King's Lynn. We had everything we needed for a comfortable and enjoyable stay. The property is spacious, with a comfortable bed and high level of finish to fixtures and fittings. As others have reported, the property was truly spotless. The location is also very good being in close proximity to the quay and shops."

A recent guest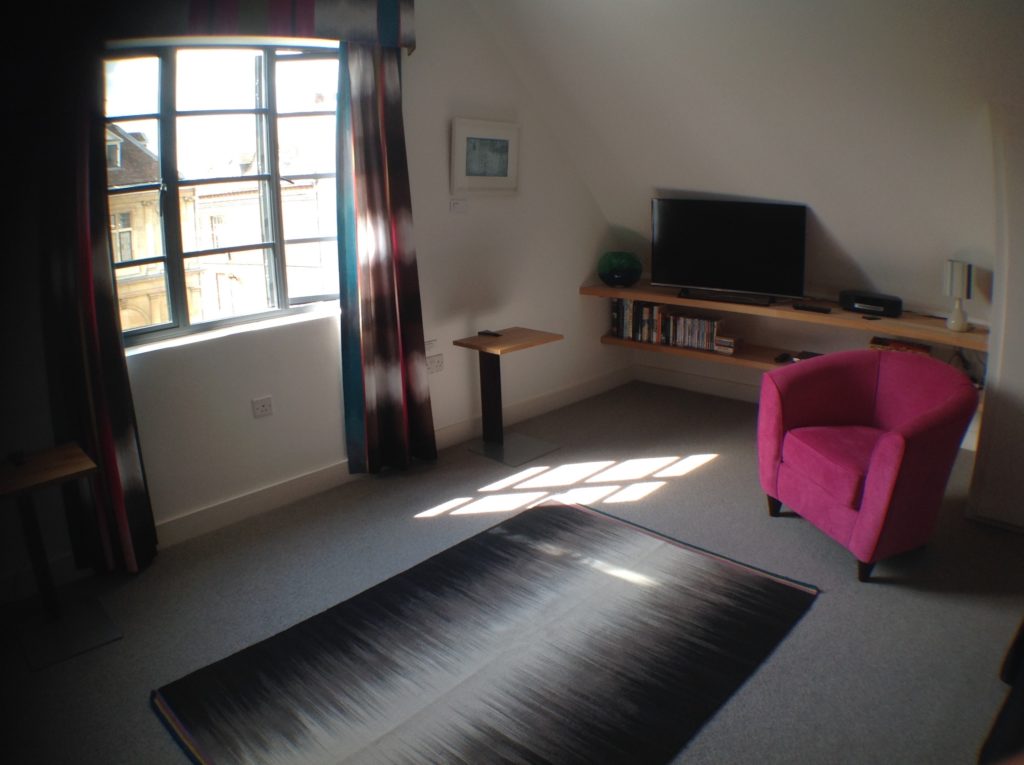 "What a fantastic penthouse. Central location close to all restaurants. Lovely walks and only 1km away from the Parkrun. Would definitely stay here again if we are in the area."

A recent guest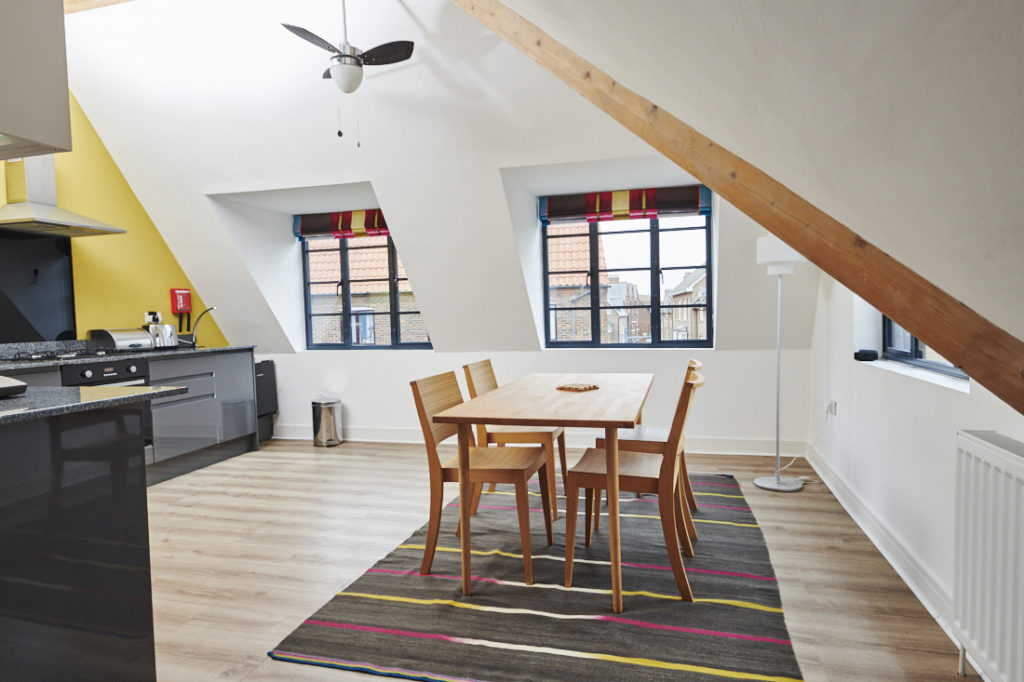 Well-equipped penthouse kitchen
The kitchen is well-equipped with utensils and appliances ideal for the keen cook. You will find plenty of pots and pans, high quality cutlery and plates. Because of our environmental focus, there aren't too many fancy gadgets. There is a coffee-cafetière rather than a machine, for example. But there is a dishwasher, fridge and freezer, and access to a washing machine for clothes.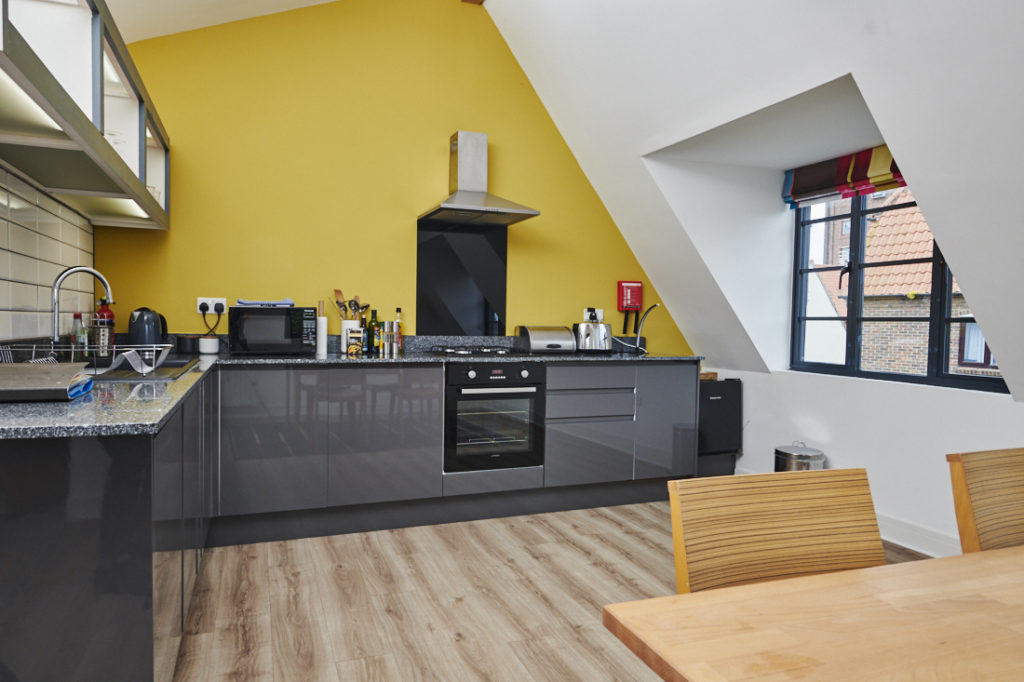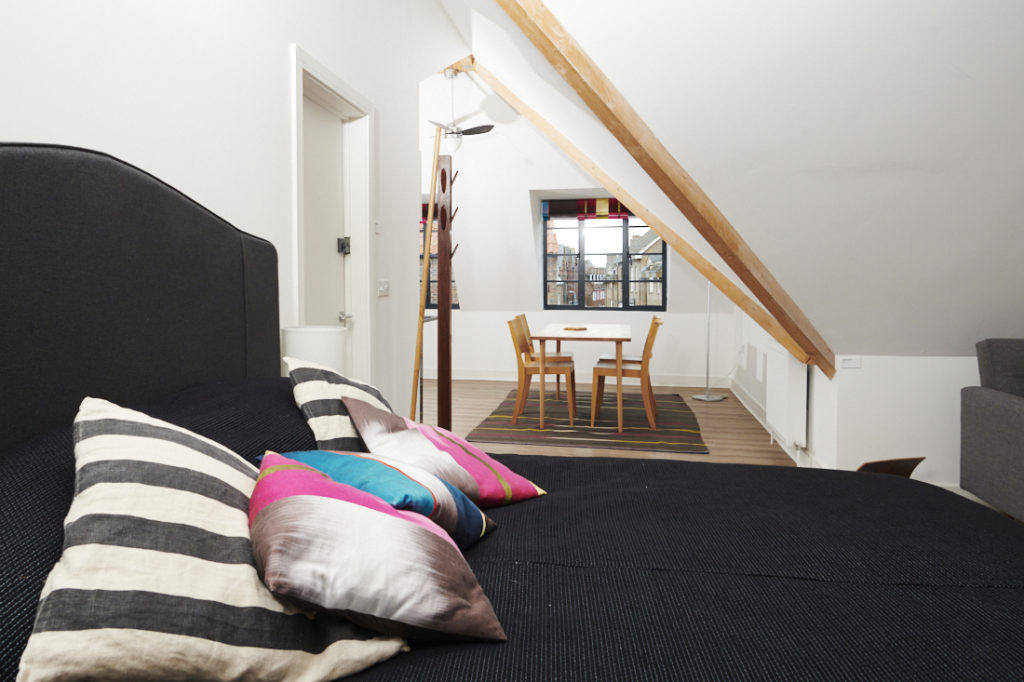 "I literally cannot praise this property enough. Absolutely lovely stay, great location and the comfiest bed you could ever ask for! Really good communication from host and very easy access check in/check out. Would definitely stay here again."

A recent guest
'The comfiest bed you could ever ask for'
Bedding is always lovely and fresh and high quality. Here, sheets from the Gallery Penthouse are drying under apple trees in the countryside. Imagine the birds singing as you sleep.
The penthouse designer bathroom
The bathroom is en-suite, with a bath with shower over, basin, mirror, toilet. Smile-Plastics made the wall-coverings. This is an award-winning artist-run company which makes decorative waterproof sheets from waste plastic. They called this pattern 'Black Dapple' and made the panels from recycled chopping boards.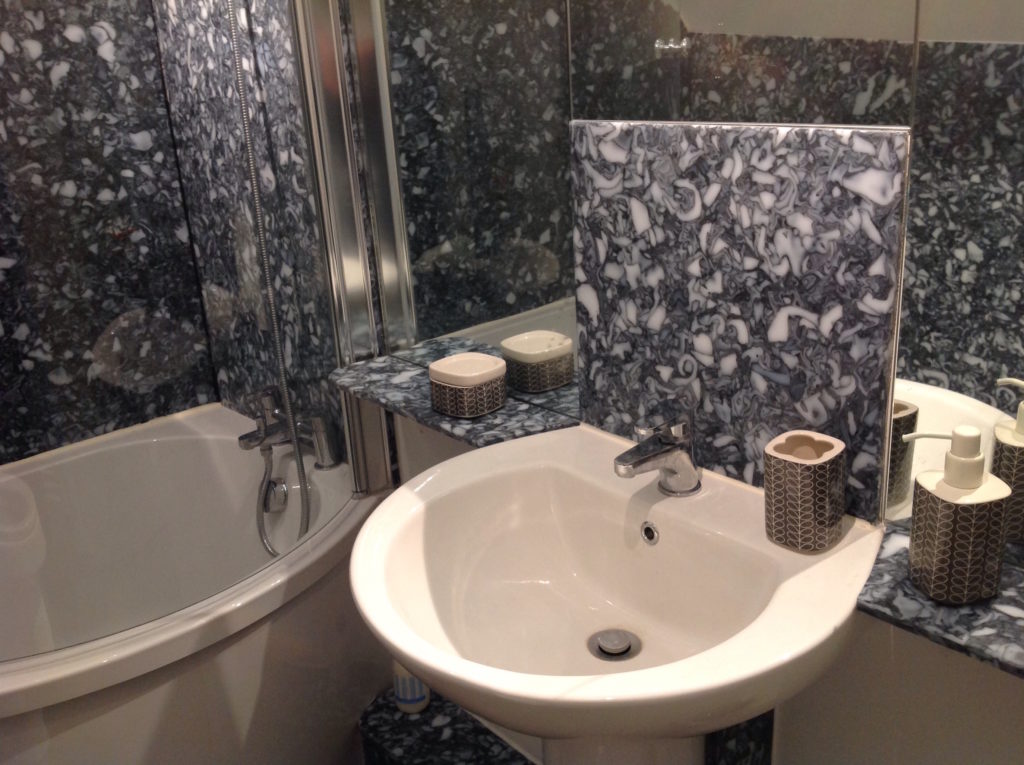 "The Groundwork's penthouse is an amazing place to stay. We felt peaceful, relaxed and really enjoyed our stay. The place is as described and probably the pictures don't do it justice. The studio is bright and airy with great views of the custom house and the river which we enjoyed both day and night time. The kitchen is fully equipped and we got also to enjoy breakfast on the private terrace on Sunday. "

A recent guest
We got to enjoy breakfast on the private terrace
The floor below is part of the gallery and often has exhibitions. But also, it is adaptable. It has a living room with two sofa beds, a kitchen with large refectory dining table, shower-room, and outside terrace. You can use it by arrangement outside gallery hours (extra charges may apply). Or as the guests above did, you can just have your breakfast, or your evening drinks on the terrace.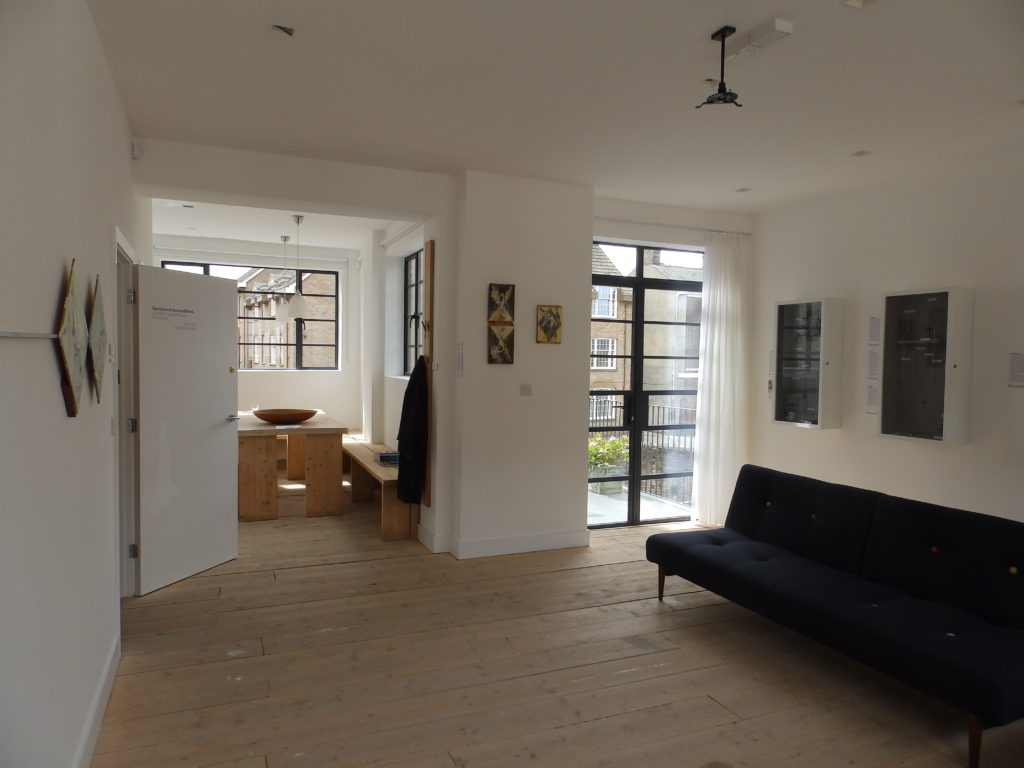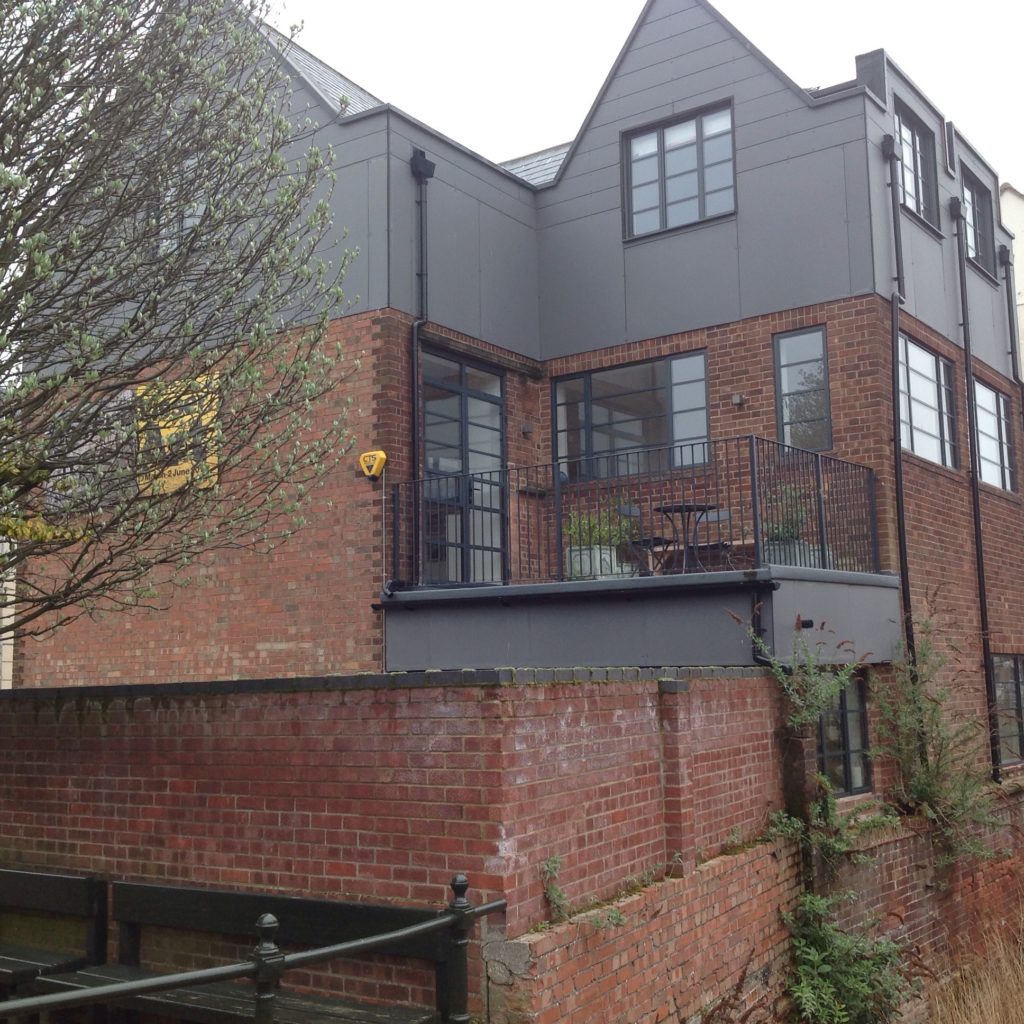 Rental – the Penthouse is open.
Income from rentals helps the gallery and its work for art + environment to thrive.
The Penthouse is listed by Sawdays Special Places to Stay. https://www.sawdays.co.uk/britain/england/norfolk/the-penthouse-groundwork-gallery
Book here (use form or link to e mail below), current rate from £78 nightly + VAT. For the coming season there is a 2 night minimum rule because of additional cleaning routines. Special rates for weekly or longer stays.
Send any enquiries about bookings to mail@groundworkgallery.com or use form below.