Judy McCaig has a varied artistic practice as a jeweller, printmaker, photographer and painter. Poetic ideas and stories from nature and the world around her inform her work.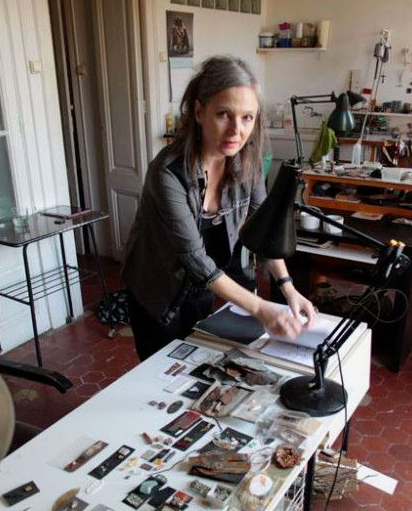 Originally, Judy's extensive travels early in her career informed her approach to jewellery. As a result of her study of history and ancient cultures, her jewellery followed that kind of meandering path. Steeped in culture, she sketched and drew constantly, to gather her impressions. These might occur during museum visits, or direct from nature. She would incorporate them directly, translating them in silver and gold.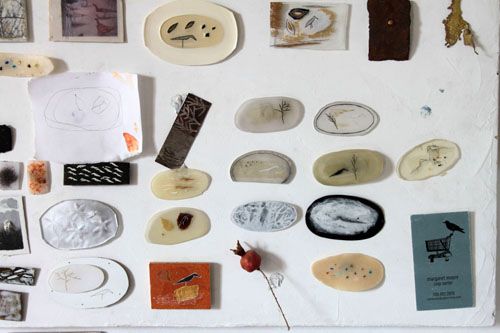 Her jewels tell tiny stories
Lately however, her work has become much more reflective of a longer process of thinking. Her designs come as a development from the original experience. She plans ideas and elements in advance.
Nowadays Judy's ideas and reflection intertwine in poetic ways as she plans her work. Her jewels and reliefs tell stories, often tiny ones. About rivers and seas, experiences of nature, weather, light and dark. Even a small pin has the essence of a narrative in its imagery. Little brooms sweeping; crazily tipped up tables. Reeds and grasses in black and gold blowing in a white breeze.
Shop Judy's jewellery here
Night falls and darkness brings not only precious stars and moonlit skies. Our fears are heightened, our imagination runs high. Sounds, animals, trees growing, branches falling, twigs snapping. Life regenerating.

Judy McCaig
The statement above is an extract from an exhibition of her wall
reliefs, 'Night and Day'. Behind her works lie stories and memories. Even and the smaller jewels which we have on show at the gallery reflect these.
Innovative technique
Judy works with complex and innovative techniques. For the brooches and pins in our current stock she has layered the reliefs. She makes them from brass, tombac and d bond, then etches their imagery in gold leaf. Tombac is a brass alloy. D-bond is a specialist exhibition panel material. It is a sandwich of two sheets of aluminium with a polythene interior. Her images have such clarity and charm, it is easy to miss all this kind of detail. Yet, it is easy to see just how much more highly sophisticated and complex this all makes her work.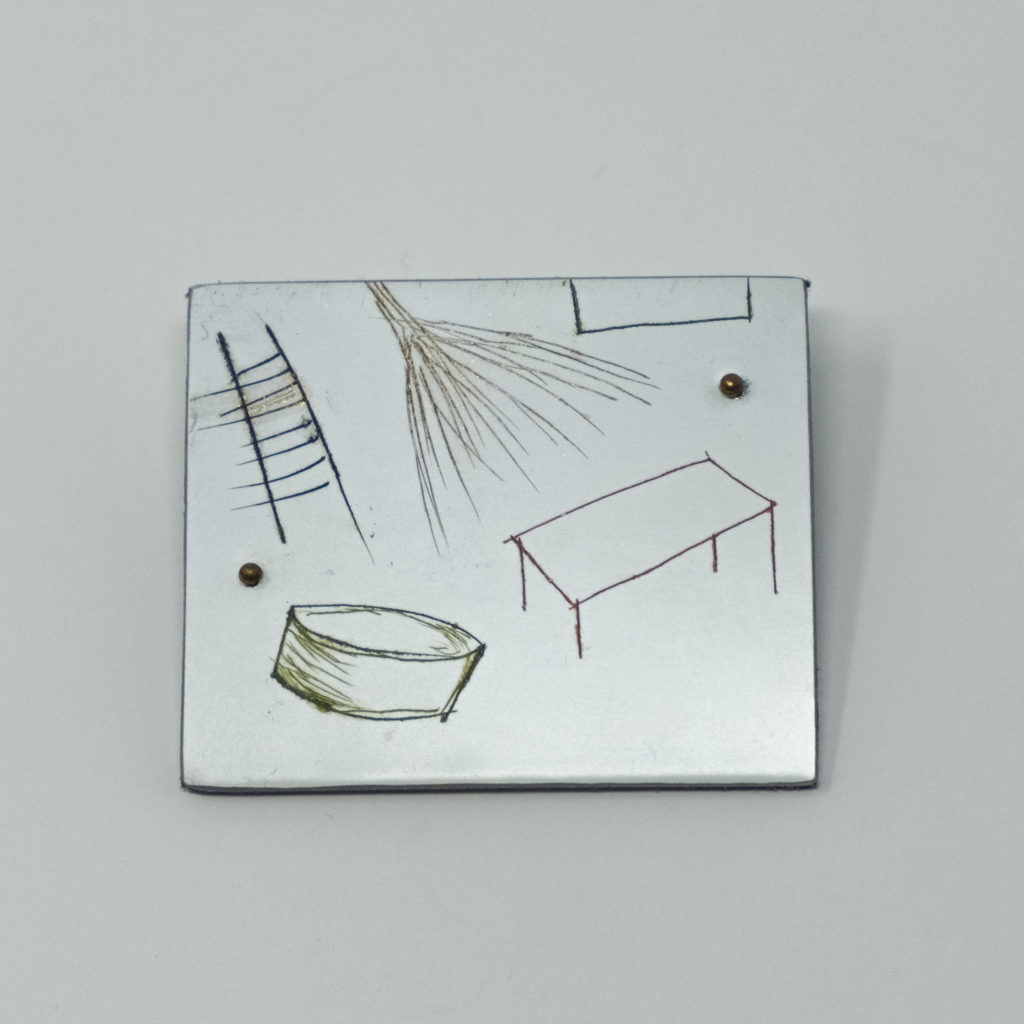 About the artist
Since 1991 Judy has lived and worked in Barcelona. Born in Edinburgh, she studied art and jewellery at Duncan of Jordanstone School of Art, Dundee from 1975-79.
In 1980 she gained a post- graduate degree in Dundee specialising in jewellery and photography. She then won a Scottish Education Department Major Travel Scholarship to study Native American Indian history/culture in the USA. From 1980-83 she studied for a Master of Arts at The Royal College of Art, London, after which she travelled extensively in Egypt and Europe.
On her return to London in 1984, she studied printmaking for three years and set up a workshop at 4011⁄2 Studios. In 1989 she visited Indonesia,
Australia and New Zealand. From 2000 until the present day she has been
teaching at the Massana School of Art in Barcelona and since 2009 at Taller Perill, Barcelona. also acting as visiting lecturer in the USA, Germany, Portugal, Scotland, Spain, Canada, Chile and Argentina.
She exhibits internationally and has work in many public and private collections, including the British Museum, Crafts Council Collection, London and the National Museums of Scotland, Edinburgh.